Figure Eight Maniacs Take Over Inside Florida Racing Monday Night
By Jack Smith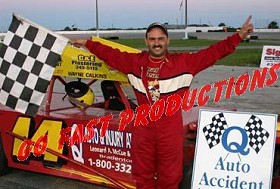 Somebody told me not to use the word maniac in the title of this, but we make no apologies for it. When the beefed up Speedrome style cars take to the pavement at Auburndale Speedway, fans will see for themselves whether or not it fits. Race fans can soon get a glimpse of the mayhem about to descend on the bullring near Lakeland, Florida come the second week of February.

This Monday night Inside Florida Racing will spend the entire two-hour show on the subject of Figure 8 racing with some of the sports wildest drivers.

There is the mild-mannered off track personality of Wayne Calkins, one of the stars of figure eight racing at the now closed Sunshine Speedway. Wayne has made several trips in recent years to the Speedrome and competed against the best. Calkins making a return visit to Inside Florida Racing, is another driver passionate about figure eight racing, said "If we could put a show on in Florida once a month at the is track or here or there, Bronson, Citrus, Auburndale or Charlotte, we could draw a crowd".

Then there is the wild man "Rockin" Rodney Davis, though he calls Auburndale Speedway his home track, has won races all over Florida and has a resume that includes the famed Islip NY figure 8 track. Davis is well known for putting on a show anytime he gets on the pavement. "I'm not bringing an ugly race car to this race, he said late Friday from the Polk County, Florida garage where he and his buddies were putting a new body on the car he intends to win with in the Florida Figure 8 Championships at Auburndale.

When asked about Davis, Calkins said, "Rodney, he's a real good friend of mine, but that guy is a nut case. He runs to the extreme. He's a showman, he likes to put on a show whether it's before or after the races."

On February 12th through the 15th drivers from the famed Speedrome in Indianapolis, as well as several other states will make their way south for a good old fashioned North versus South Shootout in the "X". "I'm not expecting to let any of them northern boys to steal my thunder", Davis said. Those familiar with Davis know he means it.

Of course some of the best figure 8 racing in America is at the Indianapolis 1/5 mile Speedrome, and you would expect it to field the best race car drivers.

Take Casey White for instance. The man they call "Big Cat" is out out there every week fighting it out. Though he has racing or about eight years this cat finally has some bite, "Now that we hooked up with Eddie VanMeter and have real good equipment we are winning races", he said today in a phone conversation from his home in Indiana. Casey won four events at the Speedrome, and finished third at Irwindale Speedway out in California.

Eddie VanMeter was guest on last week's edition of Inside Florida Racing: "I grew up racing at the Indianapolis Speedrome and it has always been a passion of mine. There's nothing like figure 8 racing, we have done a lot of racing all over the world and figure 8 racing is just the best racing out there." FULL INTERVIEW WITH VANMETER.

Other drivers expected to join in are RJ Norton Jr. from Indiana and 2007 Citrus County Figure 8 Champion Cliff "Bones" Rousseau.

We could not do this show justice without inviting the racer known as the "world's most hated driver", John Lavalle. Lavalle, originally from the northeast, is another racer who was well known around Florida from the days of Sunshine's figure 8 prominence. Lavalle quickly lets you know why he is the "world's most hated driver", he has no manners and no regard for anyone. As he made abundantly clear when we spoke today, (he yelled, I spoke) he is coming to Auburndale to make sure everyone understand he is the best figure 8 driver in the world.

Fans love figure eight racing, the drivers who do it love it, and after February 15th, we have a feeling Florida promoters may be ready to re-adopt Figure Eight racing as one of the main attractions at the state's short tracks.

All the fun gets started Monday night on Real Racin' USA's Inside Florida Racing at 7 PM. Inside Florida racing is hosted by CeCe Brooks, Rob "Bonehead" Elting and Jack Smith. The two hour show has become a huge success with listeners from all over the country, featuring racers, promoters and fans talking about their favorite passion.

Real Racin USA will broadcast the final night of the event live from Auburndale Speedway, Sunday February 15, live with Bill Green and Rick Anges. Tune in Sunday at 6PM for pre-race interviews and stay after the race for post-race interviews with the winners.

The Florida World Figure 8 Championships is a four day event at Auburndale Speedway, located near Lakeland Florida. Ticket prices for adults are only $15.00 . For more information, visit www.speedrome.com, check out the event flyer online, or call 317-353-8206.


Have an opinion on this story? Post a message on The Real Racin USA Florida Fan Message Board! or Email KARNACto send a letter to the editor!
---