"I'm noticing a turn of the tide on racing Web sites like Florida's Karnac.com, the gathering place for the most dedicated race fans in the state."

-Orlando Sentinel
IT'S TIME TO RACE!!
Super Late Models Highlight Winter Spectacular VI
by Larry MacMillan




Hard core race fans faced some very cold weather as Citrus County Speedway completed Winter Spectacular VI in preseason stock car racing action. Eighty six racers came to race in the six divisions on the schedule and the fans definitely got their money's worth of what is to come in the 54th racing season in 2009.

Nineteen Super Late Models came to the 3/8ths mile asphalt oval that has been said to challenge even the best of drivers. They'll tell you if you run and finish at Citrus you can drive any track.

PHOTO GALLERY FOR WINTER SPECTACULAR VI

The challenge came early when Wayne Anderson's primary car broke in the practice session taking the expected ride that Dave Pletcher came to pilot out of the starting field to give Wayne a seat to fill in the backup car.

Dustin DesChamp came up top qualifier with a 13.762 second run over Georgia ASA visitor Taylor Satterfield's 13.780.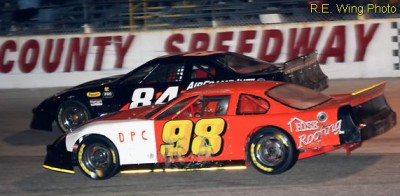 Wayne Anderson and Herb Newmann just before the 84 of Anderson slammed into the turn one wall
The top 7 were inverted for the start. Scheduled 3rd starter Mike Bresnahan driving the #3 WRC racer had his motor go away on him during the pre race hot lap session finishing his night before it even started.

This left 17 cars to take the green flag in their 75 lap special. Pole sitter Brock Ogelsby won out in the side by side dual for the lead over John Gerstner and held onto the point for the first 16 laps while Daniel Webster came from 6th to put the pressure on and snatch the lead away in lap 17.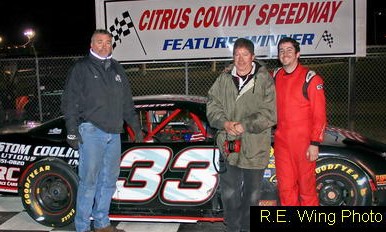 Daniel set the pace right to the checkers for the win despite several caution flags that tightened the field up. Herb Neumann managed to handle the traffic from his 10th starting spot to pick up a distant second with only 5 cars in the lead lap when the checkers flew.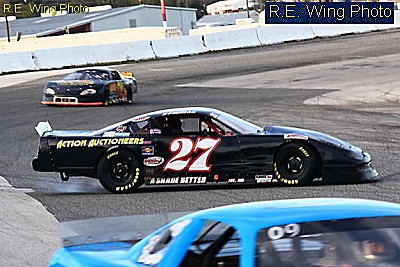 Rob "bonehead" Elting returned to super late model racing at Citrus, seen here in a spin


Taylor Satterfield got caught up in one of the caution flags that had him going to the rear of the field for the restart and he motored his way through the 11 finishers to salvage a third place finish in his first visit to Citrus.

Rounding out the top eleven were Jeremy Gerstner, Dustin DesChamp, John Gerstner, David Pollen Jr., JoJo Viverito, Randy Anderson, Rob Elting and Brock Oglesby.

Robbie Yoakam grew up at Citrus County Speedway and if anyone knows their way around this oval he is the man. He showed that talent in topping all 22 qualifiers with a 14.830 second fast lap with another second generation Mini Stock champion Jim Smith following him up with 14.951 second run. Only one other driver clocked a 14 second lap and that was James Ellis at 14.955.

The top 10 were inverted for the Mini Stock 50 with Craig Cuzzone launching off the poll and leading for the first few laps with 3 caution flags before the completion of the first lap. Eight laps into the race top qualifier Robby Yoakam was going for the lead from his 10th starting position and apparently lost power and went to the pits so it was over before it really got started for him.

When things settled down Jesse Henley proved to be the man to beat taking the win over Brandon Strevels who started on the outside pole and managed to stay in the top five throughout the race. James Ellis started 8th and recovered from a caution flag infraction and motored back into a third place finish followed by Travis Hoefler, Ronnie Allen, David Mothershed, Michael Birk, Bryton Prevatt, Chris Zimmerman and Christopher Harvey rounding out the top ten.

The Pure Stocks were also scheduled for a 50 lap special and Curtis Flanagan came out top qualifier with a fast lap of 16.657 seconds over the 23 car field. Only two other drivers broke into the 16 second bracket with Bill Ryan turning a 16.720 and John Drye locking down a 16.829 second run.

Tommy Smith won the pole position on the draw inverting the top 6 qualifiers. When the green flag dropped it was all over but the shouting when Smith took the point and the only driver that had anything for him was Curtis Flanagan when the checkered flag flew despite multiple caution flags.

Mike Hinde started third and finished third ahead of 2008 Pure Stock Champion Bill Ryan who elected to start in the rear of the field for a shot at the "Hard Charger" award that was offered. Runner up in last year's championship run John Drye locked down 5th. Rounding out the top 10 were James Peters, Larry Welter Jr., Larry Welter Sr., Aaron Welter and Drew Matissek.

Only nine V8 Thunder Stock Rookies made the show and only 4 finished their 20 lap feature. Mathew Harris started 6th and wasted no time going to the point. Denise Bouchard was the lady to watch as she made numerous mistakes in the early going but apparently got a handle on her racer and knew when to lift and when put the hammer down. She had a see saw battle with Scott Werstein in the race for second but Werstein, who had the early lead, won out at the line. Denise held out for third followed by Dustin Strott.

Added to the program was the Bass Pro Challenge Series with 8 cars coming from all over the state. Jerry Heflin came in with Modified Lite racer and put the rest of the field to sleep in the heat race but crashed in the first lap of the feature leaving the series cars in a close match race. Paul White from Eustis came up the big winner in their 20 lap feature. Lanny Rubink tried to reel in the leader but had to settle for second over the only other car in the lead lap Rowdy Gordon. Jarrett Snowden and Gene Capps were the only other two cars to finish.

The Outlaw Modifieds also brought 8 cars and the top shoe in both the heat and 25 lap feature race was Doug Hopper who has been a Mini Stock driver at Citrus County Speedway. Hopper started in the rear of the field in both starts and worked the outside groove hammering the rest of the field. Craig Shear locked in a second place finish over Billy Campbell. Tom Meyer held off Colin Cabre in the run for fourth.

Drivers will have a two week layoff before Citrus County Speedway opens the 2009 Championship season February 7th in all 8 regular divisions. The TBARA Winged Sprints will be kicking asphalt on opening night which is always a very impressive race turning laps in the low 12 second bracket in traffic. Mini Stocks, Street Stocks, Pure Stocks, V8Thunder Stocks, the Florida Pro Challenge Series and DeSoto Champ Karts will kick off the season opener.

Winter Spectacular VI Part Results:

Super Late Model – 75 Laps – 19 Cars
1. #33 Daniel Webster – Brooksville
2. #98 Herb Neumann Jr. – Inverness
3. #21 Taylor Satterfield – Georgia
4. #70 Jeremy Gerstner – Eustis
5. #51 Dustin DesChamps – Brooksville
Fast Qualifier #51 Dustin DesChamp – 13.762 Seconds

Mini Stock Feature – 50 Laps – 22 Cars
1. #13 Jesse Henley – Homosassa
2. #14 Brandon Strevels
3. #98 James Ellis – Brooksville
4. #20 Travis Hoefler – Floral City
5. #68 Ronnie Allen
Fast Qualifier - #8 Robby Yoakam –Hernando – 14.830 Sec.

Pure Stock Feature – 50 Laps – 23 Cars
1. #93 Tommy Smith – Hernando
2. #51 Curtis Flanagan – Floral City
3. #142 Mike Hinde – Hernando
4. #33 Bill Ryan – Bushnell
5. #39 John Drye – Inverness
Fast Qualifier – Curtis Flanagan – 16.657 Sec.

V8 Thunder Stock Feature – 20 Laps – 9 Cars
1. #411 Mathew Harris
2. #45 Scott Werstein
3. #16 Denise Bouchard
4. #112 Dustin Strott
5. #58 Danny Kimball

Bass Pro Challenge Series – 8 Cars – 20 Laps
1. #25 Paul White – Eustis
2. #23 Lanny Rubink – Ft. Myers
3. #7J Rowdy Gordon – Salt Springs
4. #4 Gene Capps – Salt Springs
5. #40 Jarrett Snowden – Salt Springs
Heat Winner - #23 Lanny Rubink

Outlaw Modified Feature – 25 Laps – 8 Cars
1. #15 Doug Hopper – Brooksville
2. #56 Craig Shear
3. #11 Billy Campbell
4. #04 Tom Meyer
5. #71 Colin Cabre
Heat Winner – #15 Doug Hopper


Have an opinion on this story? Post a message on The Real Racin USA Florida Fan Message Board! or Email KARNACto send a letter to the editor!
---