"I'm noticing a turn of the tide on racing Web sites like Florida's Karnac.com, the gathering place for the most dedicated race fans in the state."

-Orlando Sentinel
IT'S TIME TO RACE!!
Hendry County Motorsports Park Begins to Take Shape
By Jack Smith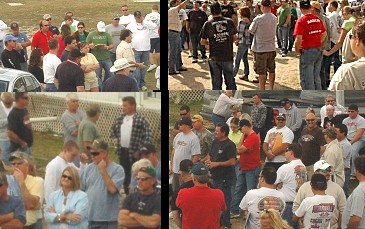 A couple of dozen members of the Florida motorsports community assembled Sunday morning at Hendry County Motorsports Park near Clewiston for an organizational meeting of the new incarnation of the nation's southernmost dirt track. Promoter Ken Kinney from Labelle, Fl is in the process of organizing the elements necessary to take the speedway, which has struggled at times in its history, to a new level of family entertainment in South Florida.

After introducing some the key staff and management, he outlined what needed to be done in the near term to prepare the speedway for opening. Originally scheduled to open in early March, the decision has been made to postpone the first event until sometime in April or possibly even May. "In order to open this facility at the level we want to operate, there are some things that are just going to take more time to do it right", Kinney said.

New bathrooms, which includes new septic systems, along with creating new drainage fields and engineering all are being moved through the process with government officials.

Preparations to add new clay and track surface, bleacher upgrades, new tech shed, office renovations, new signs, parking improvements and dozens of other details are all fully planned out according to Kinney. "But I don't want to get into these things until the county meeting at the end of the month", he explained. He wants to ensure the Hendry County officials have fully approved all the upgrades in order to "ensure a positive long term relationship with the local government officials."

"Though several different owners here, including Chris Ponsoldt, have played an important role in the history of the speedway", Kinney explained to the staff, but he was quick to point out, "it has never gotten to the level that we are going to take it to for sure." March 7 was a goal, but I won't open this place until it is right", he concluded.

The fact that Kinney is a well known businessman in Hendry County and understands how to work with local officials is a big plus for the revitalization of motorsports in this very unique area of the country.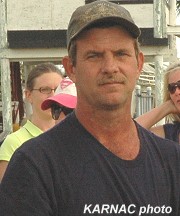 Larry Thacker will be retained as the Facility Manager overseeing the day to day preparation of the track and upkeep of the speedway and grounds, as well as manage and oversee the many physical improvements that will take place. "Larry's commitment to excellence is exactly what we need in the day to operation and preparation of the track. He is extremely valuable to our long term success", Kinney said. Sherry Thacker, who has a lot experience at the track, will also have many duties helping run things in the pits, keeping things running smoothly on race day.

Also among the people introduced were longtime Sunshine Speedway announcer Bill Green. Bill is going to take that position at Hendry County Motorsports Park and also handle race related articles and work with local and state media outlets to expand coverage of activities at the facility.

Billy Ausburn has assumed the Race Director position and spoke with the approximately 80-90 racers who attended the afternoon session, explaining his plans for creating a strong and entertaining race program.

"Change can be good but some people are afraid of change." That is the way Billy Ausburn sees it.

But he also sees the opportunity to help create something special in south Florida, "Ken has put together a good group of people and if we all do our jobs this can be a very great thing for Florida racing", Ausburn said. Billy has brought his longtime friend and fellow racer Lenny Schmidt along to assist him in the role as Pit Steward.

As racers at Hendry County will soon learn, Billy is a fun loving friendly guy, but on race day it's time to get to work, he is as serious as you get. "We don't want to get some racer injured or hurt because we are not focused on our job."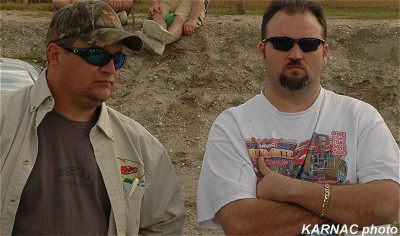 Tommy Kelly (left) and Billy Ausburn


Tommy Kelly, Technical Director for the United Dirt Late Model Challenge Series, will be the head tech man and will hire assistants as needed. Between he and Auburn they are already well underway in the process of solidifying the rules to create competition and increase car counts at the track.

Terry Wall just made the move back to south Florida to work full time handling marketing and sales for both the UDLMCS and Hendry County Motorsports Park. Terry Wall has been involved in motorsports marketing for over 25 years, and has extensive experience in the Florida racing scene through his work with KARNAC and his marketing company Wall & Associates.

Former Charlotte County General Manager Linda Jericka will be the Head Scorer and working with Billy Ausburn in scoring tower operations.

Amy Wilson, another mainstay who has been an invaluable asset at the track, will oversee general race day operations, including safety, security and administration.

KARNAC Media has been retained to work with the track in the development of media and promotional programs including development of a new web site (www.hendrycountyracing.com).

As it stands now the earliest the track could likely get started with the 2009 racing program would be in April. One thing is certain, when the first cars come out onto the the new clay at Clewiston, the excitement is going to be very special, and some heads will be turned around the Sunshine State.

Have an opinion on this story? Post a message on The Real Racin USA Florida Fan Message Board! or Email KARNACto send a letter to the editor!
---