Drew Brannon Teams With Butch Miller and Green Light Racing
Team Release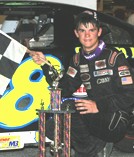 Mooresville, NC Friday January 16, 2008 – SS Green Light Racing is pleased to announce that sixteen year old Drew Brannon will pilot the ASI Limited #32 for the 2009 ASALMS Season. The team lead by three-time ASA National Champion Butch Miller is planning to compete for the ASA Late Model Southern Championship as well as the premier ASA Late Model Challenge Series Championship.

Although he's only sixteen, the Florida native has been racing for over ten years beginning in go-carts when he was only five years old. During his six years racing carts, Drew put together a string of impressive National wins, was a three Time National Class runner-up and added six Florida State Championships in Junior Sportsman 1 Lite and Junior Sportsman Heavy. Drew moved into mini-stock and limited late models over the next several years before moving into the super late model ranks in 2008.

Drew's breakout late model race was winning an ASA North Series race at I-70 last year, becoming the youngest driver ever to win an ASALMS Feature race. "I am so excited to get to work with Butch Miller for the 2009 season," said Drew. "We ran two races together recently and the cars handled so good. We qualified fifth at the Snowflake, but we ended up pitting too late and we could only get back to 12th. We had an alternator fail while running up front in our second race, I really feel we could have won that race. I like how Butch communicates and I think we are going to have a very good 2009 season."

Bob Brannon, Drew's father has watched SS Green Light Racing over the last several years and is looking forward to 2009, "I have been very impressed with SS Green Light's professionalism and their top-notch, experienced people. We couldn't ask for anyone better than three time National Champion in Butch Miller to help with Drews' development."

Ken Smith, co-owner of SS Green Light Racing and President of ASI LIMITED is expecting the experience of Miller and the youthfulness of Brannon to be a great combination. "We are excited to welcome Drew to our Driver Development Program. He caught my attention earlier in 2008 when he hauled from Florida to the high banks of I-70 and won the ASA race going away. At only 15, that was quite an accomplishment. He is a talented driver with lots of drive and dedication. We are expecting many successes in 2009."

Miller is equally excited for the 2009 season, "I ran a late model race at Concord last year and somehow I qualified on the front row, the other driver on the front row was Drew. It was the youngest and oldest drivers in the field starting side by side. At the drop of the green, Drew went to the front and I went straight to the back," Miller joked. "He is a very polite and exceptional young man and he is very eager to learn. I think we will have a great year together. The 2009 ASA Southern Series season kicks off on March 14th Charlotte County Speedway Punta Gorda, FL

For more on SS Green Light Racing visit www.SSRacingonline.com.


Have an opinion on this story? Post a message on The Real Racin USA Florida Fan Message Board! or Email KARNACto send a letter to the editor!
---