"I'm noticing a turn of the tide on racing Web sites like Florida's Karnac.com, the gathering place for the most dedicated race fans in the state."

-Orlando Sentinel
IT'S TIME TO RACE!!
Webster Holds Hot Hand on a Cold January Night
By Jack Smith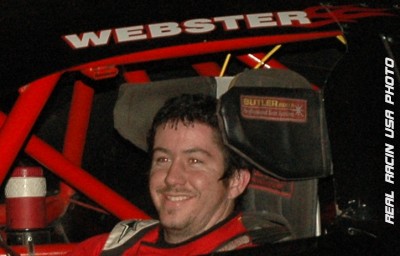 The Winter Spectacular at Citrus County Speedway may have been a bit short on fans due to the bitter cold, but the ones who braved the sub 40 degree night saw a typical quality racing show at the Inverness track.

Mini Stocks, Pure Stocks, V-8 Thunder Stocks, Pro Challenge cars and Outlaw Modifieds raced, in addition to the Super Late Model main event.

Eighteen Super Late Models rolled onto the track, but before pole sitter Brock Oglesby could take the green flag, Mike Bresnahan's familiar number 3 race car died and had to be towed to the pits. Dave Pletcher was also at the track ready to race but he had to drop out with mechanical issues before qualifying.

It took Oglesby a few laps to settle the issue of who was going ride out front in the 75 lap green flag race. Young Daniel Webster quickly made his presence felt and began looking for a way to pass Oglesby.

Several early cautions slowed the pace of the race, a nasty collision involving Wayne Anderson and last years Super late model champ Herb Neumann on lap 8 put Anderson in the pits for the night as his car whacked the turn one wall pretty good. Neumann was able to continue but never challenged Webster and had to settle for second place.

Oglesby was able to lead the first sixteen laps, but once Webster got past him to take the lead, he went into warp drive and left everyone to race for second.

We will have much more on the Winter Spectacular, lots of photos and Larry MacMillan's report on the rest of the races later on Sunday.

Daniel Webster will be featured on "Inside Florida Racing" this Monday night 7-9 PM.

[We would like to thank the ownership and management of Citrus County for their wonderful hospitality for the staff of KARNAC and Real Racin' USA.]


Have an opinion on this story? Post a message on The Real Racin USA Florida Fan Message Board! or Email KARNACto send a letter to the editor!
---