An Affordable Speedweek Taking Shape at Ocala
by BJ Cavin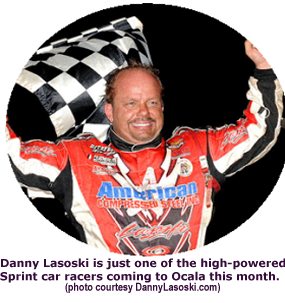 As 2009 gets underway Ocala Speedway is busy finalizing plans for what should be the most affordable Speedweek event in Florida.

The detailed schedule and pricing are finally in place, and Ocala Speedway owner Mike Peters is excited to bring a Speedweek show to the state that is more affordable to a wider range of race fans, and that offers the same high quality racing that race fans expect from such events.

Dates for the Ocala Speedway Speedweeks shows are January 29th, 30th, and 31st, and grandstand prices begin at $25 for Thursday and Friday's events, and $30 for Saturday action.

Ocala Speedway is proud to have the world famous O'Reilly All Stars Circuit of Champions 410 sprint cars on the schedule for three nights of alcohol fueled, high horsepower excitement, and featuring a growing list of top name drivers who want to challenge the toughest 3/8ths mile in the southeast.


--Advertisement--




Ocala Speedway's growing reputation has caught the attention of racers at the top, and more are expressing their desire to come and experience the oldest race track in Florida and see what all of the hype is about.

Appearing along with the O'Reilly All Stars will be extreme modified action with the UMP DirtCar Modifieds. And while no official list of modified drivers has been released as of yet, word out of the Ocala Speedway grapevine is that many top names will likely be on hand, including the Reutimanns. And local racers are excited to have a shot at challenging some of the best, and are getting on board to come and race as well.

As the dates of the Speedweek program approach, Mike Peters is in touch with officials from the O'Reilly All Stars and plans to announce updates to the list of top notch drivers that have already confirmed their plans to come to Ocala and race. Fans are asked to watch the official Ocala Speedway website at www.OcalaSpeedway.com for times, prices, and updated information. Fans can also visit the Ocala Speedway MySpace found at www.MySpace.com/OcalaSpeedway.

Some of the 410 sprint car drivers expected to appear are listed below:(Click on links to hear driver interviews
Terry McCarl
Danny Lasoski
Darryn Pittman
Dale Blaney
Lance Dewease
Randy Hannagan
Greg Wilson
Tim Shaffer
Craig Dollansky
Pat Cannon
Mike Erdley
Doug Esh
Brian Ellenberger
Mark Smith
Stevie Smith
Fred Rahmer
Sam Hafertepe
Chad Hillier
Brock Mayes
Danny Smith
Maranda Throckmorton


Have an opinion on this story? Post a message on The Real Racin USA Florida Fan Message Board! or Email KARNACto send a letter to the editor!
---