| | |
| --- | --- |
| Thursday, September 11, 2003 | |
Travis Kittleson Spends the Weekend in the NASCAR Garages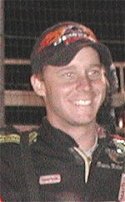 While Travis Kittleson has been knocking on the door to victory lane in his rookie season of ASA competition, he hasn't forgotten that when opportunity comes knocking, he needs to answer.

Recently the 23-year-old, up-and-coming racer had the opportunity to visit the world of NASCAR at Richmond International Raceway (VA) during its triple-header weekend of Winston Cup, Busch Series and Craftsman Truck Series action.

Kittleson put the time to good use. Instead of "stargazing" at some of his possible future competitors, he began making as many connections as he could while reconnecting with some old ASA friends.

His hope is that in the near future he will join the ranks of the Busch or Craftsman Truck Series as one if its full-time drivers.

"This was a great opportunity for me to get my face and my name exposed to a lot of the people in the Craftsman Truck, Busch and Winston Cup Series," said Kittleson. "Like a lot of drivers in the short track ranks right now, I would like to have a future of racing with some of the best racers in the country in front of packed houses at some of the best racetracks across the country. Driving my ASA car to the best of my abilities is important, but I knew it would also be valuable to meet the many people that make up the NASCAR world.

"I've never been on the inside of one of these events before and it really opened my eyes to all the things that go on during one simple race weekend. I got to everything that happens, from stuff in the garage area all the way up to driver introductions and the race. It's all very professional and something that I would like to be associated with in the future. Hopefully, with the experience and exposure ASA is giving me, someone will notice and then remember meeting me at Richmond or some of the other races I plan to attend in the future."

While in Richmond, Travis got to meet several of the top owners and brass in NASCAR's top three series, including the likes of Ray Evernham (Evernham Motorsports), Ty Norris (Dale Earnhardt, Inc.), Greg Pollex (ppc Racing), Jack Roush (Roush Racing) and Jim Smith (Ultra Motorsports).

"I was real impressed in speaking with some of the people I had the opportunity to meet. Everyone was nice and willing to talk to someone they didn't know all too well. And with the number of up-and-coming drivers that are out there right now, it was a good chance to get out there and get my name and face recognizable with the people in NASCAR. If they don't know you, they'll never hire you."

Travis also reconnected with several former ASA stars that now find themselves in the Craftsman Truck and Busch Series, including David Stremme, Joey Clanton, Tim Sauter and Ryan Hemphill.

"I got a lot of time to talk with Joey and David, which was cool," said Kittleson, who recently spent an ASA race battling nose-to-tail with Clanton in Elko, MN. "They were able to tell me what it was like to race at this level and some of the differences between running in ASA and in the NASCAR ranks. They also let me know some of the things they did to help push their way into the upper ranks."

Kittleson currently sits sixth in the ASA point standings with four top-fives and seven top-10s in 14 races. He was runner-up at Concord Motorsport Park in April.

Despite the team's top-six position in the point standings, they are still looking for sponsorship to help them in their quest for the 2003 ASA Rookie of the Year title.

Be sure to visit www.traviskittleson.com for more information.



Have an opinion on this story? Post a message on our Message Board!
<news@karnac.org>or send a letter to the editor!
---